Inner Peace™ 4 ounce bug-free haven

Bug-free living, even with your bag wide open!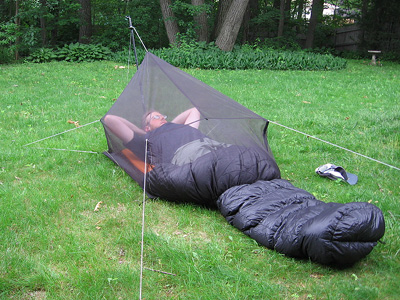 Inner Peace noseeum netting tent - click images for enlarged view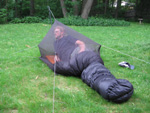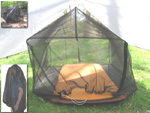 Perspective on shelter size: occupant is 75 in. tall, 200 lbs

HIGHLIGHTS:
Ultralight, no-see-um netting enclosure for tarp users and stargazers

Taut, roomy design; sets up quickly and easily

Tarp-tent mode: Clips overhead to your tarp's ridge line and out to corner stakes

Stargaze mode: Stand-alone set-up using a trekking pole, stick, or overhead branch

Poncho mode: Wear it over the head & torso and bring lunch, a book, or journal inside with you

Sewn-in floor and full-perimeter elastic drawcord entryway effectively seals out all types of insects

Zippered entryway opens wide for easy access

Weight: 4.6 oz.
MADE IN USA of US textiles
Inner bug shelters made of no-see-um mesh allow tarp users to continue enjoying the benefits of tarping, despite the mosquitoes and black flies that might otherwise drive us into a heavier, less spacious, and less ventilating tent. They can also work well on their own, for bug-free sleeping without a tarp on starry nights. Unfortunately, a full-length bug shelter tends to be rather heavy itself, if it has a sewn-in floor and isn't suffocatingly small inside. And bug-proof shelters without floors, like tarp-tents with mesh skirts, offer zero protection against insects that may be on the ground beneath you. In fact they tend to trap these insects right where you'd least prefer them to be.
The Simblissity Inner Peace™ bug-free haven is a half-length shelter with sewn-in floor that effectively prevents all insects - both flying and crawling - from entering your living space. The half-shelter design eliminates the weight and redundancy of enclosing the entire occupant in netting; a sleeping bag, lightweight bivy or liner - even most hiking pants - is comfortable and effective protection for the lower body.
The Inner Peace™ outperforms other netting half-shelters in a number of important ways, by offering:
Superior protection

An elasticized opening with cordlock cinches securely around the full perimeter of the sleeping bag and mattress - not just along the top - thus eliminating the vulnerability of gaps where the shelter meets the outside world. At 48" in length, the shelter protects to well below the waist and is designed to completely fit most 3/4 length sleeping pads, as shown in the photo above. (Longer pads extend beyond the shelter without concern, or can be placed underneath the floor.)



More functional living space

With a generous height and width, sewn-in floor, and taut, vertical walls, the Inner Peace is much more than a mere sleep screen. The shelter offers ample room to sit up on your side while eating or reading, and to stretch out with no fear of coming into contact with the walls or roof. Most importantly, you can unzip - or completely dispense with - a sleeping bag on warm nights, as the shelter is taut and roomy enough to protect bare arms, hands, and the entire torso area to below the waist. Toss and turn all you like; the Inner Peace stays put and bugs stay well out of reach.


Greater versatility

The Inner Peace can be attached beneath a tarp, pitched on its own in fair weather, or kept protected in its stuff sack on bug-free nights. Its A-frame roof shape matches that of most tarps, while four elastic lines attach to the tarp's corner stakes, stretching to accommodate the variable pitch of the tarp. A fifth line attaches overhead to a trekking pole, support stick, tarp guyline, or even to an overhead branch if pitching the shelter on its own. The attachment lines terminate on the inside of the shelter, where tiny cordlocks permit further adjustment of line length and tension to create a taut and roomy structure, regardless of the tarp's dimensions or geometry of pitch. Set-up is quick and easy, taking less than a couple of minutes.

Planning to use the trail shelters on your next outing? The Inner Peace can be pitched as basic bug protection inside a shelter without using all of its lines - or encroaching upon your shelter mates' space. For the lightest possible arrangement, any unused attachment lines can be removed.

And speaking of versatility, the Inner Peace also doubles as a bug poncho. Put it on over a brimmed hat, cinch the opening below your waist, and find ample room for eating lunch - cookpot and all! - without the mosquitoes forcing you to make an early camp.


Lightest all-up shelter weight

Used in conjunction with a tarp, the Inner Peace requires no additional anchoring equipment. (Two ultralight titanium stakes are recommended, but aren't essential.) Its taut, roomy shape is a barrier not only to insects, but also offers an additional measure of protection against moisture, such as condensation build-up inside a tarp, angling rain, and splash-back. And because it works with even a small, very lightweight tarp, the Inner Peace can be a key component in a truly ultra-lightweight shelter system - a versatile and highly protective rig which, including stakes and ground sheet, can have an all-up weight of less than a pound!



A vertical zipper opens the entryway wide for easy access; the entryway will actually lift higher than this due to the stretchy nature of the attachment lines at left and right above it.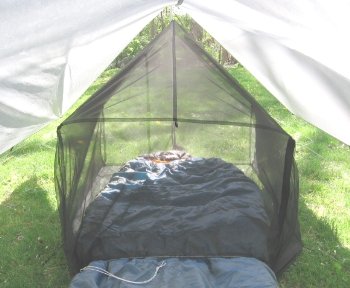 With the zipper closed and entryway cinched snug around its full perimeter, the vulnerability of gaps is eliminated where the entryway and sleeping bag/pad meet. Note how the entryway panel remains vertical, in fact sloping away from the occupant to increase interior space.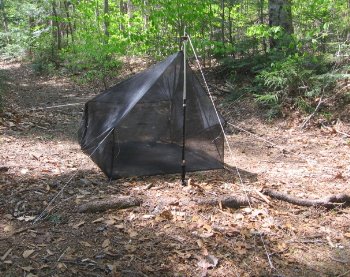 Here the enclosure is pitched stand-alone using a single trekking pole and 7 stakes. Achieving this pitch is extremely easy. Start by staking out the 4 corner attachment lines then simply raise and stake out the ridge. An optional stake in each of the two entryway-corner loops (the rear corners of the shelter in the photo) solidly anchors the floor.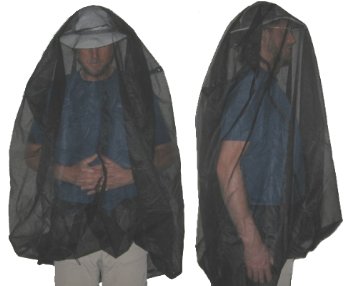 You're sure to be the main attraction - but not for the mosquitoes! - while wearing the Inner Peace as a combination headnet / bug poncho at rest breaks and lunch/dinner stops. "Unconventional" though it may look, wearing the enclosure over the head and torso when bugs are swarming will allow you to eat lunch in blessed peace, since there's ample room to bring your food and cookpot completely inside with you. Simply pull in the attachment lines, put on a brimmed hat, and pull over the shelter, cinching the opening around the waist. Read a book, or catch up on your journal. There's even enough room inside to gracefully swing your arms, though we really can't recommend it for hiking - except, perhaps, around a padded cell.




Copyright © 2015 Simblissity Ultralight Designs