G.E.T. for Google Earth last updated August 2016
---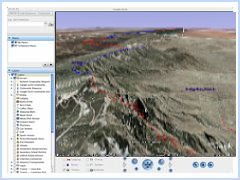 Pan, tilt, and zoom your way along the Grand Enchantment Trail on a virtual 3D tour from Phoenix to Albuquerque!
All you'll need to begin your interactive journey is
Google Earth on your desktop, tablet, or mobile device and then launch the file listed below. This data file illustrates the entire route of the G.E.T., color coded alternately red and blue to highlight each of the route's 39 segments. Overlayed on Google Earth's high-detail 3D satellite imagery, it offers an astonishingly realistic and informative look at the terrain through which the Grand Enchantment Trail passes.
To access the file, click or tap on the following link and then follow the prompts on your screen to open it in Google Earth.
(On devices like iPad note that you may need to wait a few seconds after tapping for the device to recognize the file type and then offer the option to open it in the Google Earth app.)
The route should now appear on the globe within the viewer, and the file name may also be listed in the Places menu. Once the file is open in the Places menu you should be able to drill down to see its placemarks - in essence a list of the route's 39 segments from end to end. Click or tap on a placemark to see it highlighted on the map. Double-click or tap to zoom in directly to a particular segment.
To make your tour more informative, you may want to add various layers using the program's Layers window. For example: Terrain, Roads, Borders, and Geographic Features. The Google Earth Community layers may also be useful here and there along the route. Experiment to see what works best, and happy virtual hiking!
* Google Earth file intended for entertainment purposes only. Trail overlay does not condone following any specific route.
Example "screen shots" ...
| | | |
| --- | --- | --- |
| | | |
| Weaver's Needle | Aravaipa Canyon | Santa Teresa Wilderness |
| | | |
| | | |
| Pinalenos / Ash Creek Canyon | Magdalena Mountains | Sandia Crest |