BotSpot™ shoulder strap-mountable water bottle holder
Enhance your water hauling capabilities with the BotSpot™, an ultralight bottle holder that attaches securely to your backpack's shoulder strap. BotSpot will hold a wide range of bottle sizes, including quart and liter bottles*, yet it won't bounce or wobble around, even with a full load of water. Removal and replacement of your bottle is quick and easy, too, so now you can drink freely without having to stop and remove your backpack to get at those oh-so-pesky side pockets!
Total weight: 1 ounce (28 grams)
New for 2011: Ultralight tough-mesh construction, both front & back. Available in black and gainsboro gray.
Made in USA of US textiles
* Holds cylindrical bottles up to 10.5" in circumference (~3" diameter), for example AquaFina® liter bottles. (Bottle not included.)

Carrying water on the shoulder straps of a backpack isn't a new idea. For those who don't use water bladders and hydration tubes, carrying bottles on the shoulders offers easy access to your beverage of choice without having to:
1) stop
2) remove your backpack
3) remove bottles from the side pockets or wherever, drink, and replace
4) put the backpack on again
5) go
6) repeat steps 1 - 5 every time your thirst needs quenching
What's more, shoulder-carried water can be in addition to water stored elsewhere on the backpack, allowing you to haul larger volumes of water without storing all of it behind you. In this way, the "shoulder carry" can help to balance the backpack's load. Carried well, that front-mounted water can feel comparitively weightless, too, since it isn't contributing to the total load on your back. Alas - truth be told - the bottle-on-a-shoulder-strap method has often been poorly executed, giving the whole idea a bad name in the minds of some. Our innovative, patent-pending BotSpot™ bottle holder aims to return that name to good standing.
The BotSpot offers superior load control, so your bottle won't bounce up and down or wobble side to side appreciably as you move. It holds onto its contents securely, too, meaning your water won't go rolling down the mountain side (unless, by some misfortune, you do). Removing and replacing a bottle is quick and easy while on the move. And perhaps best of all, the BotSpot's position is fully adjustable up or down the shoulder strap while you're wearing your pack, so it's easy to dial in just the right height for varying sizes of bottle. Multiple mounting options make the BotSpot compatible with a wide variety of packs and shoulder straps. (No disassembly of the shoulder strap is required during installation.)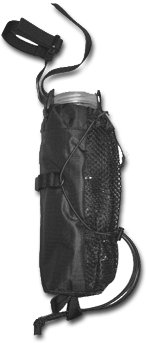 Secure, top-loading bottle compartment with adjustable elasticized drawcord closure
Velcro, elastic cord & cordlock compression keeps both your bottle and BotSpot stable and motion-free.
Innovative "sliding loop" top mount can be raised or lowered on the shoulder strap for a perfect fit. Cinch-able webbing loop with side-release buckle offers slip-free attachment to your backpack's load lifters, around the shoulder strap itself, through daisy-chain style webbing, a D-ring, or elsewhere.
Dual bottom webbing loops - one as a keeper for the primary elastic cord, the other for attaching a secondary elastic loop (included, not shown) to your shoulder strap for additional stability as desired
Fast installation and removal lets you move BotSpot easily from one pack to another without having to undo the shoulder straps.
Holds 12 - 33 fluid ounce round bottles up to 10.5 inches in circumference. Can also be used to securely carry items like snacks and other small essentials (or a small bottle and an energy bar, for instance).


Specifications:


Ultralight tough-mesh construction throughout (New for 2011)
7.25 in. tall x 11 in. circumference (holds bottles up to 10.5 in. around)
1 ounce (28 grams)
Installation and usage instructions included.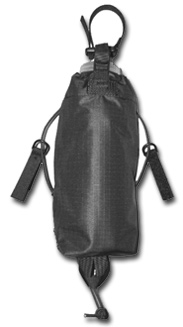 Rear view, with velcro tabs open, ready for fast installation on a shoulder strap.

Rear view, with velcro tabs closed. In actual use, the velcro wraps around the circumference of the shoulder strap. The elastic cord slides freely through the two D-rings, allowing it to be cinched tight (after inserting a bottle) or loosened (before removing to drink).





Copyright © 2015 Simblissity Ultralight Designs